Iridololgy (pronounced eye-ri-dolology)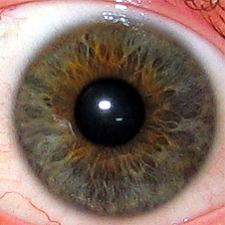 Iridology is the assessment of the body and the functioning of its systems by reading information from the iris of the eye. An Iridology session will provide you with information about the overall functioning of your body, including imbalances that can lead to more serious dis-eases in the future. By evaluating your body as a whole, an Iridology session with Clara can help you identify problem areas that are interfering with your physical, emotional and mental operations.
Holistic Iridology goes beyond traditional physical assessment to include the mental, emotional, and spiritual aspects of the individual. Each eye gives us different information. The left eye correlates with the left side of our body, which is the feminine, creative, conceptual and intuitive side of us. The right eye correlates to the right side of our body, which is the analytical, practical, linear, masculine side of us. By being made aware of more than their physical symptoms, individuals are able to better understand the origins of their conditions and afflictions, allowing them to more positively transform their lives on all levels.
The science and practice of Iridology is not new. The oldest records uncovered thus far have shown that a form of iris interpretation was used in Central Asia as far back as 1,000 BC, nearly 3,000 years ago. In the Bible, St. Luke writes that Christ said, "The lamp of the body is the eye. When your eyes are sound, you have light for the whole body, but when your eyes are bad, you are in darkness."
Iris analysis can uncover hereditary predispositions to degenerative conditions decades before symptoms occur or diagnostic testing may reveal them. Genetic information about an individual's strengths and weaknesses can be interpreted through the connective tissue of the irises, including its structure, pigmentations, and accumulations. Health conditions that develop over time can be analyzed by changes in the retina, sclera, cornea, pupil and conjunctiva. These changes in health are a function of not only genetics, but also of the way a person eats, drinks, feels, thinks, and lives.
During an Iridology session, Clara will use a special camera to take a photo of your eye. She will examine the photo and share with you the information she sees in your eye.
Iridology provides a painless, economical, and non-invasive means of assessing health status. It may be utilized in conjunction with any other system of analysis or diagnostic procedure available. The eyes are the bridge between the spiritual, mental and physical aspects of our human nature. This science may seem new and unfamiliar, however Clara encourages her clients to be open-minded and not fear discovering the information that might be obtained. All the information we can obtain about ourselves will only help us to achieve optimal health and well being!
Benefits:
Information about potential dis-eases and changes to prevent them
Information about underlying contributors to current imbalances

Information about organ strength and weaknesses

Learn about the potential for future disease

Information about digestive system functioning

Clara Bayer is a Diplomate of Holistic Iridology. (Dip.H.Ir.)
---